Parking Mendoza - La Salud
Schedule
First entry
Monday a saturday
08:00 a 22:00
In/out access
Monday a saturday
08:00 a 22:00
Vehicle
Max height
5 m
Max long
4.80 m
Max width
2.40 m
Cierra los festivos locales: 1/01 - 6/01 - 18/03 - 19/03 - 14/04 - 15/04 - 18/04 - 25/04 - 24/06 - 15/08 - 12/10 - 1/11 - 6/12 - 8/12
Cabina de control en la planta 1
Hay una entrada y una salida, independientes
Existe suplemento para vehículos grandes
Domingos y festivos parking cerrado
×
We have modified the time of entry to be able to comply with the mandatory advance notice of the parking to reserve.
Parking Mendoza - La Salud
How to access:
Pick up a ticket
Pick up a ticket to enter the parking lot and present it with the reservation voucher in the control cabin.
License plate reading
The parking barrier will open automatically when it recognizes your license plate number.
Accede desde la Calle Manuel Candela girando por la Calle Pobla de Farnals (por la periferia del hospital) y en la primera calle gira a la izquierda, el parking esta ubicado a 10 metros al costado izquierdo.
Description

of Parking Mendoza - La Salud (Valencia)
Aparcar en el centro de Valencia sin complicaciones ahora es posible, reserva plaza online en nuestro parking y ahorra tiempo y dinero en aparcamiento.
La opción más cómoda si quieres visitar Valencia, podrás recorrer el centro de la ciudad caminando y disfrutar de los lugares más emblemáticos de la ciudad. Si eres amante del fútbol, te ofrecemos plaza de parking cerca del Mestalla a un precio inmejorable y con un servicio completamente profesional ¡No te pierdas ni un solo evento en el Mestalla! Si tienes que asistir al Hospital Casa de La Salud nuestro aparcamiento es una opción inmejorable, estamos a menos de dos minutos de distancia caminando del Hospital y además ahorrarás dinero en tu estancia.
El proceso es muy sencillo, reserva a través de la web tu plaza de parking en Valencia, recibirás un justificante de reserva en tu correo electrónico con todos los datos del aparcamiento. A tu llegada al parking retira el ticket y muéstrale al operario tu justificante. ¡No puede ser más sencillo! Reserva ya en Parking Mendoza y deja tu vehículo en las mejores manos.
Characteristics

of Parking Mendoza - La Salud (Valencia)
Horario de lunes a sábado de 8:00 a 22:00
Parking cubierto y subterráneo
Accesos ilimitados solo para abonados
Vigilado por personal
Cámaras de seguridad
No hay que dejar llaves
Conexión eléctrica
Dispone de WIFI
Dispone de cobertura móvil
Dispone de aseos
Soporte para bicicletas
Dispone de plazas para personas con movilidad reducida (PMR)
interest points

of Parking Mendoza - La Salud (Valencia)
 Carretera del Aeropuerto, s/n, 46940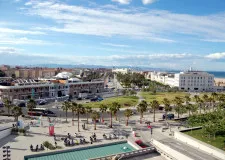 Parking Alergia y Asma - Casa de Salud (100 m)
Parking Jardi D'Ayora (700 m)
Parking Avenida de Blasco Ibáñez (700 m)
Parking Estadio de Mestalla (1 km)
Parking Paseo de la Alameda de Valencia (1 km)
Rreviews

from Parking Mendoza - La Salud (Valencia)
danielmendozagarciam — 2 months ago ⭐⭐⭐⭐⭐
Excellent newly renovated and well-lit car park, there is always staff to help, it is not cheap but it is understood due to the location, recommended !!