Parking Hortalegre Cruceros
Schedule
First entry
Monday a friday
07:00 a 23:59
In/out access
Monday a friday
07:00 a 23:59
Único parking con licencia oficial para servicio de recogida y entrega en terminal para cruceristas. 
×
We have modified the time of entry to be able to comply with the mandatory advance notice of the parking to reserve.
Parking Hortalegre Cruceros
How to access:
Unos 30 minutos antes de tu llegada llama al número de teléfono que aparece en tu justificante. Un operario del parking te estará esperando en el punto de recogida del coche de la terminal, que es el la T de terminal Transmediterránea.
A tu vuelta repite el mismo proceso, llámanos con antelación para evitar esperas. Un operario del Parking Hortalegre Cruceros te devolverá tu vehículo en perfectas condiciones en el punto acordado.
Description

of Parking Hortalegre Cruceros (Valencia)
El Parking Hortalegre Cruceros se encuentra en el edificio de Veles e Vents, localizado en Marina Real del Rey Juan Carlos I de Valencia.
Este es el único parking del Puerto de Valencia con licencia oficial para el servicio de aparcacoches para cruceristas en la terminal de Trasmediterránea (valet parking), lo que significa que el parking Hortalegre Cruceros se compromete a ofrecerte un servicio de recogida y entrega de tu vehículo en el puerto de Valencia. Cero riesgos dado que el aparcamiento se encuentra en el propio puerto - el recorrido con el coche desde la Terminal hasta el parking será mínimo.
Esta será la opción de aparcamiento idónea si vas a embarcar en alguno de los cruceros que parten desde Valencia, como los que oferta la compañía Trasmediterránea. Reserva parking en el único aparcamiento con licencia oficial de aparcacoches para el puerto de Valencia. Aprovecha estos precios y aparca cerca del Marina Club y de la aduana de Valencia.
Characteristics

of Parking Hortalegre Cruceros (Valencia)
Cubierto
Cámaras de seguridad 
Lector de matrículas 
Plazas para personas con movilidad reducida
Servicio de recogida y entrega en la terminal Transmediterránea GRATIS 
Licencia oficial para servicio de recogida y entrega en terminal
interest points

of Parking Hortalegre Cruceros (Valencia)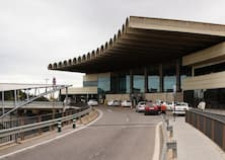  Carretera del Aeropuerto, s/n, 46940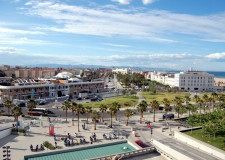 A continuación, te indicamos los lugares de interés más cercanos al parking, calculados en minutos andando desde la entrada principal: