Parking San Fernando
Abono mensual 4 horas diarias
46,00€
Abono mensual nocturno
50,00€
Abono mensual diúrno
69,00€
Abono mensual 24 horas
82,00€
How to access:
Access with watchman
Park your vehicle and present the reservation receipt in the control cabin.
Description

of Parking San Fernando (Santiago de Compostela)
Si buscas dónde aparcar en Santiago de Compostela, el Parking San Fernando tiene una ubicación ideal, con acceso desde la Rúa de Fray Rosendo Salvado, 23  y otro desde la Rúa de Santiago de Chile, 12.
Es un parking con plazas cubiertas, con vigilancia y horario 24 horas, para que te despreocupes del coche. Así, al reservar en el Parking San Fernando, podrás aparcar en el centro de Santiago de Compostela, en la zona nueva, conocida como El Ensanche. 
Además de estar muy cerca del Hospital Policlínico La Rosaleda y el Campus de la Universidad de Santiago, está en una de las zonas comerciales y de tapeo de la ciudad, a pocos minutos de la Plaza Roja, con sus restaurantes y terrazas de reunión social.
Si aparcas en este parking, estarás muy cerca de varios puntos turísticos y parques de la ciudad, pero si vas a la Estación de tren Santiago, el parking San Fernando es un parking low cost en Santiago, para reservas larga estancia. 
Characteristics

of Parking San Fernando (Santiago de Compostela)
Vigilado las 24 horas
Plazas en interior
Dos entradas y una salida disponibles
Accesos ilimitados durante la duración de la reserva
Cámaras de seguridad
Plazas para motos. Consultar precios contactando con Parkapp.
interest points

of Parking San Fernando (Santiago de Compostela)
 Lavacolla S/N, 15820 Santiago de Compostela
 Santiago de Compostela, A Coruña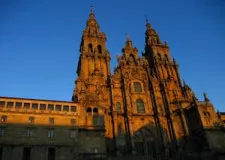  Praza do Obradoiro, s/n, 15704 Santiago de Compostela, A Coruña
A continuación, te indicamos los lugares de interés más cercanos al parking, calculados en minutos andando desde la entrada principal:
Rreviews

from Parking San Fernando (Santiago de Compostela)
ANA SIMON — 2 months ago ⭐⭐⭐⭐☆
We left our car for a week while we did part of the Camino. Although it is true that the spaces are a little small and the parking lot is a little old (improving the lighting and appearance would not hurt at all). When leaving it for a long stay, they recommended leaving it on the lower floors so that it would be more protected. The price was super affordable for 7 days, the attention of the guy who helped us was great and the car was in perfect condition when we picked it up.

Babette Sascha — 4 months ago ⭐⭐⭐⭐☆
Very friendly and helpful gentleman. Parking for 2 hours is only 2.90, and a 15-minute walk to the historic center. Lots of parking spaces, a bit tight!