×
We have modified the time of entry to be able to comply with the mandatory advance notice of the parking to reserve.
Parking Rosalía - motos
Abono mensual 24 horas moto
60,00€
How to access:
Pick up a ticket
Pick up a ticket to enter the parking lot and present it with the reservation voucher in the control cabin.
Description

of Parking Rosalía - motos (Santiago de Compostela)
Si buscas parking para tu moto en Santiago de Compostela, en Parkapp tenemos una oferta insuperable! El Parking Rosalía, situado en pleno centro de Santiago, a tan solo 10 minutos caminando de la Catedral de Santiago, a 8 minutos de La Alameda y a 13 minutos de la Estación de Tren Renfe; cercano al Instituto Policlínico La Rosaleda y a la Cámara de Comercio de Santiago de Compostela.
El parking está ubicado en la Avenida de Rosalía de Castro Nº 46, a escasos minutos del casco histórico de Santiago. Podrás ir caminando a los puntos más emblemáticos de la ciudad. El mejor parking low cost en Santiago.
Permanece abierto todo el día durante todo el año para estar a tu disposición en todo momento. Aparcar en Santiago de Compostela ya no resultará complicado: deja tu moto en pleno centro de Santiago y, ¡despreocúpate por completo!
Reserva online tu plaza de parking con Parkapp y tu moto estará seguro durante tu estancia. ¡Aparca en Santiago de Compostela con Parking Rosalía!
Characteristics

of Parking Rosalía - motos (Santiago de Compostela)
Horario 24 horas
Cámaras de seguridad y vigilancia
Accesos ilimitados durante la reserva
interest points

of Parking Rosalía - motos (Santiago de Compostela)
 Lavacolla S/N, 15820 Santiago de Compostela
 Santiago de Compostela, A Coruña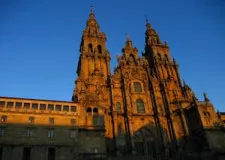  Praza do Obradoiro, s/n, 15704 Santiago de Compostela, A Coruña