Schedule
First entry
Monday a sunday
06:00 a 23:59
Vehicle
Max height
2 m
Max long
5 m
Max width
2.5 m
No cierra los días festivos
Cabina de control al final de la rampa de entrada, a la izquierda
Acceso al parking mediante lectura de matrícula (LPR), lectura de código QR o sistema GSM (apertura desde el móvil)
Garaxeando.com
Abono Mensual 5 horas diarias
25,00€
Abono Mensual 24 horas Motos
30,00€
Abono Noche Coches
30,00€
Abono Diurno Coches
45,00€
Abono Mensual 24 hs
65,00€
Abono Mens 24 horas Plaza Doble
100,00€
How to access:
License plate reading
The parking barrier will open automatically when it recognizes your license plate number.
Mobile app
Download the Parkapp app and access your account from it. When you reach the parking area, open it, and click on the 'Parking' option. A button will appear to open the barrier.
Description

of Garaxeando.com (Santiago de Compostela)
En Parking Garaxeando puedes conseguir una plaza de aparcamiento próximo a Renfe y de la Catedral de Santiago.
Este parking cuenta con plazas para 80 coches y 7 motos y posee soporte para bicicletas. Aquí encontrarás un lugar seguro donde dejar tu vehículo ya que el parking cuenta con sistema de videovigilancia.
Además podrás ahorrar dinero adquiriendo abonos mensuales o bonos de horas prepagos. Posee sistema de lectura de matrícula y lectura de código QR.
Hacé tu reserva en Parking Garaxeando y olvidate de dar vueltas. Podrás disfrutar de la ciudad, ir de visita a la Catedral, irte de viaje en tren o en bus o acudir al centro médico Concepción Arenal.. Ahorrá dinero reservando en Parkapp!
Characteristics

of Garaxeando.com (Santiago de Compostela)
Accesos ilimitados para abonados
Parking subterráneo
Cámaras de seguridad
No hay que dejar llaves
Dispone de cobertura móvil
Dispone de aseos
Dispone de soporte para bicicletas
interest points

of Garaxeando.com (Santiago de Compostela)
 Lavacolla S/N, 15820 Santiago de Compostela
 Santiago de Compostela, A Coruña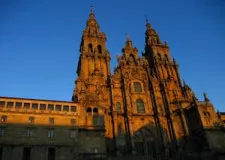  Praza do Obradoiro, s/n, 15704 Santiago de Compostela, A Coruña
Rreviews

from Garaxeando.com (Santiago de Compostela)
Oscar_39 _camco — 4 months ago ⭐⭐⭐⭐⭐
I needed to leave the car for a week and it has been great for me, to put a snag they could make rates for weeks. But the parking great

A Hermida — 11 months ago ⭐⭐⭐⭐⭐
A central car park with spacious and comfortable parking spaces. They have a computerized system for access with a QR code at any time and automatic reading of the license plate. Ideal for long stays but also for tourists who only want to keep their car for one or several days. Very cheap prices suitable for all budgets and full transparency with charges. The manager, Raquel, is a great professional willing to solve any problem or doubt during your stay. I have been a client of Garaxeando for a long time and without a doubt I recommend it for four reasons: facilities, location, price and treatment of the staff.