Parking Pedrocar Exterior - Estación AVE
Vehicle
Max height
3 m
Max long
5 m
Max width
2.20 m
Incluye servicio de recogida y entrega del vehículo en la Estación de AVE de Málaga
Échale un vistazo a los servicios extra disponibles, ¡hasta 7 tipos de lavados diferentes!
Si deseas hacer una reserva en la ZONA CUBIERTA: clic aquí
×
We have modified the time of entry to be able to comply with the mandatory advance notice of the parking to reserve.
Parking Pedrocar Exterior - Estación AVE
How to access:
Vehicle pickup at terminal
Go to the terminal that you indicate in your reservation. A parking operator will be waiting to take your vehicle to the parking lot. Upon return, it will be returned to you at the place of delivery you indicate.
Description

of Parking Pedrocar Exterior - Estación AVE (Málaga)
¿Vas a realizar algún viaje desde la estación de tren de Málaga? ¿O deseas visitar la ciudad con toda tranquilidad? Tenemos lo que necesitas para aparcar en Málaga al mejor precio.
Olvídate de dar vueltas y vueltas buscando un parking público en Málaga, además de pagar tarifas desmesuradas por aparcar cerca de la estación!! Con Parking Pedrocar tu viaje será más cómodo, recogen tu vehículo en la estación y te lo entregan en el mismo lugar el día y la hora que tu desees.
Las instalaciones del Parking Pedrocar se encuentran en Avenida Comandante García Morato, se trata de un recinto cerrado y completamente vigilado las 24 horas del día. Cuenta con un moderno sistema de cámaras de seguridad y asegurado contra daños e incendio. Deja tu coche en las mejores manos mientras disfrutas de tu viaje. La mejor opción si buscas Parking en María Zambrano o si buscas parking en Málaga centro, ya que te recogerán el vehículo en la estación de tren Málaga, en pleno centro de la ciudad.
Este parking ofrece también servicio de lavado del vehículo y servicio de reparaciones mecánicas, para tener tu coche a punto a la hora de continuar con tu viaje. Reserva online con Parkapp y aprovecha las mejores ofertas en parking!
Characteristics

of Parking Pedrocar Exterior - Estación AVE (Málaga)
Abierto 24 horas
Recinto cerrado y protegido
Parking vigilado las 24 horas
Asegurado contra daños e incendio
Sistema de videovigilancia
Servicio extra de Lavado
Servicio extra de Reparaciones mecánicas
LAVADO INTEGRAL Y TAPICERÍA incluye: Limpieza Integral del Vehículo - Limpieza de toda la tapicería - Limpieza de Alfombras, Esterillas, Luna Trasera, Paneles, Maletero y Techo - Desinfección y Desodorización - Limpieza de Manchas y Polvo Depositado en el Interior.
interest points

of Parking Pedrocar Exterior - Estación AVE (Málaga)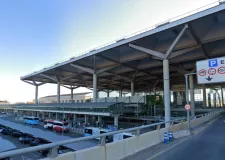  Av. del Comandante García Morato, s/n, 29004, Málaga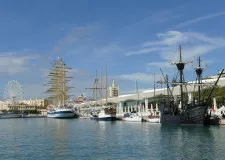  Puerto de Málaga, 29001 Málaga
Rreviews

from Parking Pedrocar Exterior - Estación AVE (Málaga)
trino — a week ago ⭐⭐⭐⭐⭐
Great park your car and even walk to airport less than 10 mins

Oana Zaharia — a month ago ⭐⭐⭐⭐⭐
We booked the car park three times with this company and we had very good experience every single time. They answer quickly on WhatsApp, everything was smooth and easy, really professional. I highly recommend.

Mark Brocklehurst — 5 months ago ⭐⭐⭐⭐⭐
First time with this company and everything was perfect. I used WhatsApp to contact them and they responded immediately. Two employees were waiting as I arrived with my car. Straightforward access to the airport over the bridge