Parking María Zambrano - Puerto de Málaga
Vehicle
Max height
4 m
Max long
5 m
Max width
2 m
Este parking tarifica por día natural.
ATENCIÓN: A partir de las 13:00 de los sábados, no hay presencia de personal en la oficina, por tanto las reservas hechas a partir de esta hora que marquen como recogida del vehículo el lunes por la mañana, tendrían que contactar directamente con el chófer (618 10 49 69) ya que al no haber personal en la oficina, no pueden confirmar las reservas en estos casos.
Procura realizar tu reserva con la máxima antelación posible. Gracias.
×
We have modified the time of entry to be able to comply with the mandatory advance notice of the parking to reserve.
Parking María Zambrano - Puerto de Málaga
How to access:
Vehicle pickup at terminal
Go to the terminal that you indicate in your reservation. A parking operator will be waiting to take your vehicle to the parking lot. Upon return, it will be returned to you at the place of delivery you indicate.
Más indicaciones en tu justificante de reserva.
Description

of Parking María Zambrano - Puerto de Málaga (Málaga)
¿Vas a coger un crucero desde Málaga y necesitas un parking seguro donde dejar tu coche durante tu ausencia? Reserva ya Parking Puerto de Málaga y aprovecha los mejores precios de parking en Málaga.
No pierdas tiempo dando vueltas buscando un sitio donde aparcar en el puerto de Málaga, en Parking Maria Zambrano - Puerto Málaga disponen de servicio de recogida y entrega en la terminal de cruceros de Málaga. Un conductor profesional recogerá tu vehículo a tu llegada y lo estacionará en el parking, a tu regreso te entregarán el coche en perfectas condiciones en el mismo lugar.
Disfruta de un servicio personalizado de aparcacoches profesional para tu vehículo. No gastes más dinero del necesario aparcando en algún parking cercano al puerto, ahorra dinero y gana comodidad con el servicio valeet puerto de Málaga y disfruta al máximo de tus vacaciones. No lo dudes más y reserva ya tu parking larga estancia en Málaga.
Ubicado en la Calle Carril de Guetara 67, a 15 minutos del Puerto de Málaga. Tu vehículo estará en las manos de los mejores expertos del sector del aparcamiento. Disponen de seguro de responsabilidad civil y de todos los servicios necesarios para garantizar el bienestar de tu vehículo. Aparcar en Málaga ahora es más sencillo gracias a Parkapp, tu app parking.
¡Disfruta de los mejores precios en parking con Parkapp, tendrás la plaza garantizada a tu llegada y además dispones de cancelación gratuita de tu reserva!
Characteristics

of Parking María Zambrano - Puerto de Málaga (Málaga)
Disponible 24H
Parking cubierto
Cobertura móvil
Servicio de lavado (no incluye tapicería) Selecciona EXTRA
Recogida y entrega de tu vehículo en el propio puerto
interest points

of Parking María Zambrano - Puerto de Málaga (Málaga)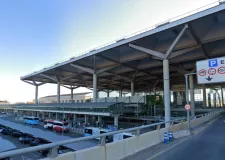  Av. del Comandante García Morato, s/n, 29004, Málaga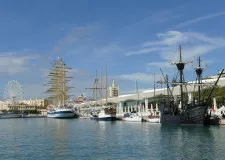  Puerto de Málaga, 29001 Málaga
A continuación, te indicamos los lugares de interés más cercanos al puerto de Málaga, calculados en minutos andando desde la entrada principal:
Parking - Puerto de Málaga (15 Minutos en coche)
Puerto - CAC Málaga (6 Minutos)
Puerto - Parque de Málaga (10 Minutos)
Puerto - Playa de la Malagueta (15 Minutos)
Puerto - Mercado Central de Atarazanas (8 Minutos)
Puerto - Centre Pompidou Málaga (12 Minutos)