Parking María Zambrano - Aeropuerto de Málaga
Vehicle
Max height
4 m
Max long
5 m
Max width
2 m
Este parking tarifica por día natural.
ATENCIÓN: A partir de las 13:00 de los sábados, no hay presencia de personal en la oficina, por tanto las reservas hechas a partir de esta hora que marquen como recogida del vehículo el lunes por la mañana, tendrían que contactar directamente con el chófer (618 10 49 69) ya que al no haber personal en la oficina, no pueden confirmar las reservas en estos casos.
Procura realizar tu reserva con la máxima antelación posible. Gracias.
×
We have modified the time of entry to be able to comply with the mandatory advance notice of the parking to reserve.
Parking María Zambrano - Aeropuerto de Málaga
How to access:
Vehicle pickup at terminal
Go to the terminal that you indicate in your reservation. A parking operator will be waiting to take your vehicle to the parking lot. Upon return, it will be returned to you at the place of delivery you indicate.
Más indicaciones en tu justificante de reserva.
Description

of Parking María Zambrano - Aeropuerto de Málaga (Málaga)
¿Viajas desde el aeropuerto de Málaga y necesitas un lugar seguro donde dejar tu coche? En parking Maria Zambrano - Aeropuerto Málaga encontrarás un servicio profesional y personalizado a precio de parking low cost. No pierdas más tiempo buscando un aparcamiento en Aeropuerto Málaga, en Parkapp tenemos exactamente lo que necesitas.
Contrata un servicio de calidad a un precio muy económico. Con un equipo de profesionales eficiente y serio en su trabajo, podrás dejar tu vehículo con la total garantía de que estará en perfectas condiciones a tu regreso. Cuenta con unas instalaciones privadas y cerradas, todas las plazas son cubiertas. Tu coche quedará completamente resguardado durante tu ausencia.
Disponen de seguro de responsabilidad civil, que asume todos los tipos de riesgos y daños que se puedan producir en el interior del parking, o en la circulación entre sus instalaciones y el aeropuerto de Málaga - Costa del Sol. Ya lo sabes, tu parking Aeropuerto Málaga al mejor precio.
Dejar el coche en el Aeropuerto de Málaga ya no es un problema. Reserva online con Parkapp y olvídate de perder tiempo y dinero buscando. Tu APP Parking Málaga en España y Portugal. ¡Disfruta de los mejores precios en parking con Parkapp, tendrás la plaza garantizada a tu llegada y además dispones de cancelación gratuita de tu reserva!
Characteristics

of Parking María Zambrano - Aeropuerto de Málaga (Málaga)
Disponible 24H
Parking cubierto
Cobertura móvil
Servicio de lavado (no incluye tapicería) Selecciona EXTRA
Recogida y entrega de tu vehículo en el mismo aeropuerto
interest points

of Parking María Zambrano - Aeropuerto de Málaga (Málaga)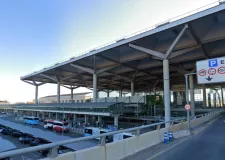  Av. del Comandante García Morato, s/n, 29004, Málaga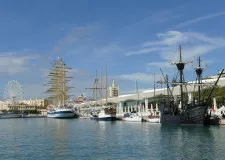  Puerto de Málaga, 29001 Málaga