Parking Costa Sur - Descubierto
Parking Costa Sur - Descubierto
How to access:
Vehicle pickup at terminal
Go to the terminal that you indicate in your reservation. A parking operator will be waiting to take your vehicle to the parking lot. Upon return, it will be returned to you at the place of delivery you indicate.
Llama al teléfono del parking que aparece en tu justificante de reserva 15 minutos antes de tu llegada a la Terminal.
La recogida y entrega del vehículo se efectuarán en el Parking Express del aeropuerto, columna nº10
Llama al mismo teléfono a vuestra llegada una vez tengaís las maletas y estéis en la planta 2 (salidas)
Description

of Parking Costa Sur - Descubierto (Málaga)
Si tienes planeado hacer un viaje de negocios o un viaje de ocio y estás buscando un parking en Aeropuerto de Málaga donde dejar tu vehículo a buen recaudo y con el mejor precio, el parking Costa Sur es una opción inmejorable. Un servicio de parking VIP a precios Low Cost. Deja tu vehículo en manos de los mejores profesionales, disfruta con tranquilidad de tu viaje mientras ponen a punto tu vehículo para que todo esté en perfectas condiciones a tu regreso. El Parking Costa Sur ofrece numerosos servicios extra para cubrir todas tus necesidades.
Este parking cuenta con el servicio gratuito de recogida y entrega del vehículo en la terminal del aeropuerto. La función de aparcacoches en el aeropuerto te permite llegar a la puerta de la terminal, dejar el coche a un operario (debidamente identificado) y que este lo aparque por ti, a tu llegada dispondrás de tu vehículo otra vez en la puerta listo para recogerlo. Ofrece sus servicios durante las 24 horas del día los 365 días del año. Las instalaciones son completamente seguras, cuenta con acceso privado, los mejores sistemas de vigilancia 24 horas y vigilancia nocturna.
Si lo que necesitas es un Parking de Larga estancia en el Aeropuerto de Málaga, Parking Costa Sur ofrece unas tarifas inmejorables para que ahorres en tu estancia. Ya lo sabes, tu aparcamiento en Aeropuerto Málaga. No lo dudes más y haz ya tu reserva on-line con Parkapp, ¡sin ningún tipo de gasto de gestión en tu reserva!
Aparcar en Málaga ya no es complicado ¡Reserva ahora tu plaza!
Characteristics

of Parking Costa Sur - Descubierto (Málaga)
Servicio de mecánica y lavado del vehículo (extras)
24 horas
Aseos
Wi-Fi
Plazas exteriores
PMR
Servicio de recogida y entrega del vehículo en la terminal
Cámaras de seguridad
interest points

of Parking Costa Sur - Descubierto (Málaga)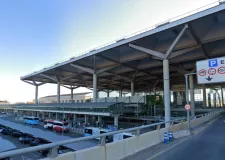  Av. del Comandante García Morato, s/n, 29004, Málaga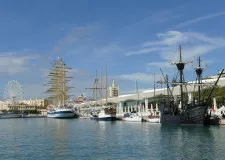  Puerto de Málaga, 29001 Málaga