Selecciona el EXTRA DE NOCTURNIDAD (5,00€) en el apartado Servicios Extra si tu reserva tiene la entrada y/o salida a partir de las 00:00 hasta las las 06:00
No cierra los festivos
Se requieren al menos 24 horas de antelación para realizar una reserva
Servicio de recogida y entrega del vehículo (VALET) se desarrolla en la Terminal 2 Parking express del Aeropuerto de Málaga 
Reserva en NISOPARK LUXURY (parking cubierto con lavado de cortesía incluído)
×
We have modified the time of entry to be able to comply with the mandatory advance notice of the parking to reserve.
Nisopark
How to access:
Vehicle pickup at terminal
Go to the terminal that you indicate in your reservation. A parking operator will be waiting to take your vehicle to the parking lot. Upon return, it will be returned to you at the place of delivery you indicate.
Llamar 20-30 minutos antes de llegar a la terminal al número de asistencia en aeropuerto que encontrarás en el justificante de tu reserva (En el apartado datos del parking y en el apartado otras indicaciones) para que nos confirmes tu llegada y así tu chofer estará esperando por tí. Una vez regreses de tu viaje apenas aterrice tu avión llámanos al número de asistencia para confirmar que has llegado y que está todo bien para que tu chofer te espere en el mismo lugar que dejaste tu coche.​  
Selecciona el EXTRA DE NOCTURNIDAD (5,00€) en el apartado Servicios Extra si tu reserva tiene la entrada y/o salida a partir de las 00:00 hasta las las 06:00
Description

of Nisopark (Málaga)
¿Vas a viajar desde el Aeropuerto de Málaga? En Parkapp te ofrecemos las mejores ofertar de parking aeropuerto Málaga a precios low cost, no gastes más dinero del necesario.
Reserva en Nisopark y disfruta de tu viaje con total comodidad y tranquilidad. Ofrecen servicio gratuito de recogida y entrega en la propia terminal del aeropuerto. Simplemente dirígete a la terminal que hayas indicado en tu reserva y un chofer profesional recogerá tu vehículo, a tu regreso te estará esperando para entregarte tu coche en perfectas condiciones.
Tu coche estará completamente seguro en sus instalaciones, cuentan con personal de seguridad y cámaras de vigilancia en todo el recinto. 
Reserva online con Parkapp tu plaza de parking en el aeropuerto de Málaga y ahorra tiempo y desplazamientos innecesarios.
Characteristics

of Nisopark (Málaga)
Horario 24 horas
Parking descubierto
Vigilado por personal
Cámaras de seguridad
Hay que dejar llaves
Dispone de aseos
Se requieren al menos 24 horas de antelación para realizar una reserva
Servicio de recogida y entrega del vehículo (VALET) se desarrolla en la Terminal 2 Parking express del Aeropuerto de Málaga 
interest points

of Nisopark (Málaga)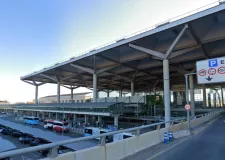  Av. del Comandante García Morato, s/n, 29004, Málaga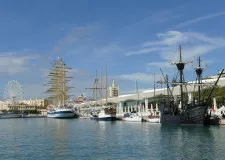  Puerto de Málaga, 29001 Málaga