JetcarPark - Aeropuerto Málaga Cubierto
Schedule
In/out access
Monday a sunday
04:30 a 23:59
Vehicle
Max height
2 m
Max long
5 m
Max width
2 m
Nocturnidad: para entregas y recogidas entre 0:00 y 06:00 debes abonar 5€ por nocturnidad en el aparcamiento.
La reserva en JetcarPark - Aeropuerto Málaga cubierto incluye lavado exterior de cortesía.
Si deseas reservar la opción low cost con plaza descubierta, haz clic en este enlace
×
We have modified the time of entry to be able to comply with the mandatory advance notice of the parking to reserve.
JetcarPark - Aeropuerto Málaga Cubierto
How to access:
Vehicle pickup at terminal
Go to the terminal that you indicate in your reservation. A parking operator will be waiting to take your vehicle to the parking lot. Upon return, it will be returned to you at the place of delivery you indicate.
Punto de encuentro aeropuerto: Terminal 2: Parking Express. Al pasar la zona bajo techo de la terminal de salida a tu izquierda. Te esperarán al principio de la última fila.
* Información más detallada sobre el check-in y check-out en tu justificante de reserva
Description

of JetcarPark - Aeropuerto Málaga Cubierto (Málaga)
Con JetcarPark reserva ya tu plaza Cubierta de parking Aeropuerto Málaga a un precio inmejorable. Disfruta de un servicio profesional a precio de parking low cost. No pierdas tiempo y dinero buscando un parking a tu llegada al aeropuerto, ¡planifica tu viaje y disfruta de los mejores descuentos! 
A veces encontrar un lugar donde dejar el coche en el Aeropuerto de Málaga puede convertirse en una odisea, reserva parking en Málaga y evita sorpresas en tu viaje. En Parkapp te lo ponemos fácil, te ayudamos a encontrar tu parking perfecto y al mejor precio con total garantía de profesionalidad.
En JetcarPark Málaga disfrutarás de un servicio de recogida y entrega de tu vehículo en el aeropuerto totalmente GRATUITO y con chóferes profesionales. El parking cuenta con unas modernas instalaciones, con personal de seguridad 24 horas y circuito de cámaras de vigilancia constante. Los chóferes de JetcarPark se encargarán de trasladar tu vehículo y devolvértelo en perfectas condiciones. El aparcamiento dispone de todos los seguros de traslado y responsabilidad civil pertinentes.
Situado a tan solo 2 minutos en coche del Aeropuerto de Málaga - Costa del Sol. Reserva parking online con Parkapp y asegúrate el mejor precio para el mejor servicio. Además te ofrecemos la cancelación gratuita de tu reserva, ya no tienes excusa para no dejar planificado tu viaje.
Characteristics

of JetcarPark - Aeropuerto Málaga Cubierto (Málaga)
Recogida y entrega del coche en la terminal
Parking vigilado
Cámaras de seguridad
Recinto privado y cerrado
Es necesario dejar las llaves
Abierto 24h
Plazas Cubiertas
Cobertura móvil
Nocturnidad: las entregas y recogidas entre 0:00 y 06:00 abonarán 5€ por nocturnidad en el aparcamiento.
interest points

of JetcarPark - Aeropuerto Málaga Cubierto (Málaga)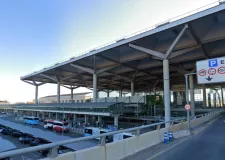  Av. del Comandante García Morato, s/n, 29004, Málaga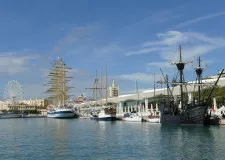  Puerto de Málaga, 29001 Málaga