APM Parking - Aeropuerto Málaga
Schedule
First entry
Monday a sunday
08:00 a 01:00
In/out access
Monday a sunday
08:00 a 01:00
Este parking tarifica por día natural.
Si quieres aparcar un furgón o una caravana, al formalizar tu reserva, selecciona el EXTRA correspondiente en el recuadro verde.
×
We have modified the time of entry to be able to comply with the mandatory advance notice of the parking to reserve.
APM Parking - Aeropuerto Málaga
How to access:
Vehicle pickup at terminal
Go to the terminal that you indicate in your reservation. A parking operator will be waiting to take your vehicle to the parking lot. Upon return, it will be returned to you at the place of delivery you indicate.
*Más indicaciones en tu justificante de reserva.
Description

of APM Parking - Aeropuerto Málaga (Málaga)
¡En Parkapp te ofrecemos un parking aeropuerto Málaga para que ahorres tiempo y dinero en tu viaje! En APM Parking ofrecen un servicio VIP a un precio low cost. Encontrar un aparcamiento en el aeropuerto puede convertirse en una tarea complicada y cara; con nuestra app parking podrás aprovechar los mejores precios para dejar el coche en el aeropuerto de Málaga.
El APM Parking ofrece servicio de recogida y entrega de tu vehículo en la propia terminal del aeropuerto, totalmente GRATUITO. Cuenta con unas instalaciones completamente cerradas y privadas con personal de seguridad 24 horas y circuito de cámaras de vigilancia constante. El trayecto y la estancia de tu vehículo están cubiertos por su seguro de daños. Cuentan con conductores profesionales que se asegurarán de que tu coche llegue intacto.
Situado a tan solo 3 minutos en coche del Aeropuerto de Málaga Costa del Sol. Deja tu vehículo en APM Parking despreocúpate por completo. No pierdas el tiempo buscando un lugar donde dejar el coche en el aeropuerto de Málaga y disfruta al máximo de tu viaje. Reserva parking online con Parkapp y asegúrate el mejor precio para el mejor servicio. Además, te ofrecemos la cancelación gratuita de tu reserva, ya no tienes excusa para no dejar planificado tu viaje.
Characteristics

of APM Parking - Aeropuerto Málaga (Málaga)
Recogida y entrega del coche en la terminal
Parking vigilado
Cámaras de seguridad
Recinto privado y cerrado
Es necesario dejar las llaves
Abierto 24h
Plazas al aire libre
Plazas sin límite de tamaño
Cobertura móvil
Servicio de lavado
Para aparcar un vehículo grande, selecciona EXTRA "Furgón/Caravana"
interest points

of APM Parking - Aeropuerto Málaga (Málaga)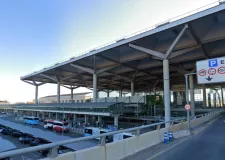  Av. del Comandante García Morato, s/n, 29004, Málaga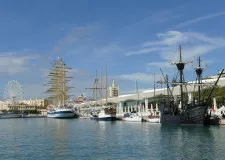  Puerto de Málaga, 29001 Málaga
Parking - Aeropuerto de Málaga (3 minutos)