Parking Costa Golf - Estación María Zambrano
Schedule
First entry
Monday a sunday
04:30 a 01:00
In/out access
Monday a sunday
04:30 a 01:00
De ser necesario en periodos de alta ocupación, el personal puede pedir las llaves del vehículo .
Reservas superiores a 5 días.
Servicio de lavado exterior gratis Servicio de Traslados ida y vuelta a Estación María Zambrano GRATIS.
×
We have modified the time of entry to be able to comply with the mandatory advance notice of the parking to reserve.
Parking Costa Golf - Estación María Zambrano
How to access:
Dirígete a las instalaciones de Parking Costa Golf.
Entrega/Muestra el justificante de tu reserva al operario del parking. Éste te indicará dónde aparcar tu vehículo.
Te trasladarán gratis a la Estación María Zambrano, sin esperas. El traslado se realiza de manera inmediata.
Al regreso de tu viaje en la Estación de tren, una vez tengas tus maletas, llama al parking para que vayan a recogerte. Te recogerán y te trasladarán al parking, donde estará esperando tu coche.
*Los tiempos de traslado pueden verse afectados por condiciones ajenas al aparcamiento (accidentes de tráfico, controles, atascos, etc.), el parking no se responsabiliza por estos imprevistos, por lo que recomendamos que lleguen con suficiente antelación al  parking para evitar incidencias en su traslado.
Description

of Parking Costa Golf - Estación María Zambrano (Málaga)
El Parking Costa Golf es uno de los más reconocidos por su servicio y su equipo de profesionales, con traslados a la Estación María Zambrano.
El parking está en la Carretera Guadalmar, 27. Si viajas en tren y quieres evitar dar vueltas por el centro de Málaga para coneguir plaza,  y además buscas precios low cost, no dudes en reservar en el Parking Costa Golf, donde el traslado hasta la estación de tren está incluido en el precio. El tiempo de traslado aproximado es de 25 minutos.
Características del Parking Costa Golf
Plazas Descubiertas
Cámaras de seguridad y vigilancia
Barreras de entrada
Plazas para Personas con Movilidad Reducida
El horario es de lunes a domingo desde las 04:3 0am hasta las 01:00 am 
Atención en varios idiomas (inglés, francés e italiano)
Characteristics

of Parking Costa Golf - Estación María Zambrano (Málaga)
Plazas Descubiertas
Cámaras de seguridad y vigilancia
Barreras de entrada
Plazas para Personas con Movilidad Reducida
Atención en varios idiomas (inglés, francés e italiano)
Servicio de Traslados ida y vuelta a Estación María Zambrano GRATIS
El horario es de lunes a domingo desde las 04:3 0am hasta las 01:00 am
interest points

of Parking Costa Golf - Estación María Zambrano (Málaga)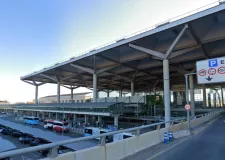  Av. del Comandante García Morato, s/n, 29004, Málaga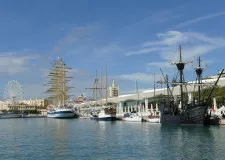  Puerto de Málaga, 29001 Málaga
Punto de interés cercanos al Parking:
Aeropuerto de Málaga - Costa del Sol - 8 minutos en coche
Puntos de interés cercanos a la Estación de tren María Zambrano
Estación de Autobuses de Málaga - 4 minutos andando
Centro Comercial Larios Centro - 5 minutos caminando
Jardines Picasso - 9 minutos andando
Paruqe de Huelin - 9 minutos caminando